Owning a website for business or personal use has become a necessity in our generation. If you have little to no technical experience it can be a little bit overwhelming. The first thing you need to do is decide on a platform.
For that, there are few better choices than WordPress. It's one of the easiest content management systems to learn and serves as a great tool for creating a powerful site. Let's learn what you should consider when starting your website with WordPress.
Know Your Goal and Purpose
This one is absolutely crucial. Before you begin to work on your site, make sure you know what you want to achieve with it. Is it for personal use, to gain new clients, to obtain more sales, or to inform people? Determine the purpose and niche that you want to pursue, and make sure that it's something that interests you.
Knowing what you want for a site and who it is for will make creating great content easier. It's not necessary to build a website for everyone. It's better to have a specific target audience, rather than try to appeal to everyone. Consistency is the key!
Choose a Domain Name
Selecting a domain name is probably one of the essential parts of setting up any kind of website, including one powered by WordPress. Think about the goal you set and make sure the domain name reflects it. The domain name will be the first impression you make after all.
Put yourself in your visitor's perspective. Will you be able to remember and recall the site's domain name easily? Is it easy to understand and type? Consider these, and other factors when picking the perfect domain name.
Once you're sure the name is right, waste no time and register it with an ICAAN accredited registrar as soon as possible – great ideas go fast, so make sure someone doesn't take yours.
Get a Reliable Hosting Provider
Now that you have decided on a domain name, the next step is to find an appropriate hosting provider. When it comes to hosting a WordPress site, most of the requirements you should raise are the same as the ones for a regular site. Here's what you should consider when browsing the available options:
Resources – based on the goal you've set, are the resources offered enough to handle the traffic you're expecting? Evaluate your disk space requirements, available subdomain number, and other relevant factors.
Cost – here you should be looking for the best price-to-quality ratio that works for your site. Look for the most affordable plan that meets all of your resource requirements, then evaluate the additional features on offer. Make sure not to overpay for resources that you'll end up not using to their fullest.
Uptime and Support – stability is always a significant factor when picking your web hosting provider. Make sure your choice offers 24/7 customer support, so you can get help whenever you need to, and that their server is uptime is no less than 99.9%. After all, what's the point of having a website if people can't visit it.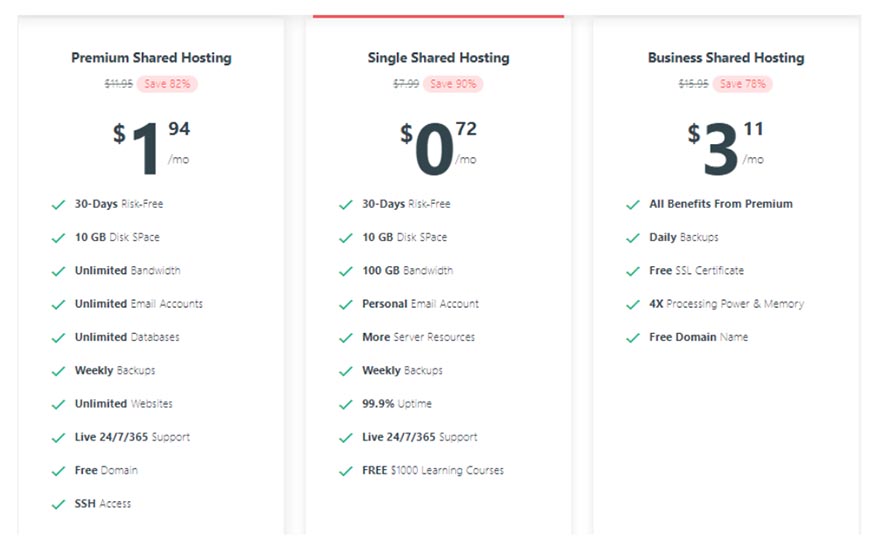 WordPress Installation
Now that you have reliable hosting for your site, you can install WordPress. Depending on the hosting package that you chose, you can either install WordPress automatically with an auto-installer or do it manually.

Usually, with automatic installers, you just need to log in to your hosting control panel, locate the WordPress installer, add the required information to the presented fields, and you're good to go! That's why we advise beginners to use this option.
WordPress Themes and Plugins
After installation, you can now choose the theme and plugins you want for your site. Some are more applicable for a blog and others for a business website.

Themes are templates or stylesheets that you can use to change the appearance of your WordPress website. There's a combination of free and paid WordPress themes that you can utilize. With those in mind, you can choose a theme that best fits your website and then install them.
To install, you just need to get into your WordPress Dashboard, then look for Appearance, and you'll see Themes under it. Once you choose the design that you like, you can now proceed to install and then activate. However, if you can't find one suitable for your site, you can look into some themes collection where you can get responsive, elegantly designed premium WordPress themes.
Next is choosing the right plugins for your website. Plugins can give you more flexibility or add more features to your WordPress website. There are a lot of free and premium WordPress plugins available that can add almost any feature imaginable to your site. This is one of the main selling points of WordPress. With the help of plugins, you can create almost any kind of website, from a powerful e-commerce site to a beautiful portfolio.
The best place to start is by checking out the official plugin directory, where you will be able to find all the basics you need and more. Starting from SEO optimization plugins like Yoast SEO, to Contact Form 7, that allows visitors to get in touch with you easily.
Wrapping Up
Now that you know what to consider when starting a WordPress site, you'll be able to construct a website that matches your vision while providing a visually attractive and easy-to-use interface.
Remember to take time in choosing the right domain name, get affordable and reliable hosting, and pick a theme that reflects your website goals.
We hope that you acquired valuable information while reading this article. Until next time!