Joomla is the second most used Content Management System in the world. One of the reasons behind its popularity is its wide variety of templates. There are thousands of designs that could fit any type of website, including blogs, online stores, portfolios, and more.
In this article, we have specifically collected nine of the greatest Joomla templates for your blog. We will show you the best ones in terms of design and features.
While choosing a template is exciting, remember that it is just one of the steps in creating a blog. You also have to choose a Joomla hosting provider that will work well with your site, along with a domain name. It all starts with a blog name, which can be hard to come up with. To find the perfect blog name you'll need to brainstorm through plenty of different ideas, that's why a helping hand is always a great thing to have.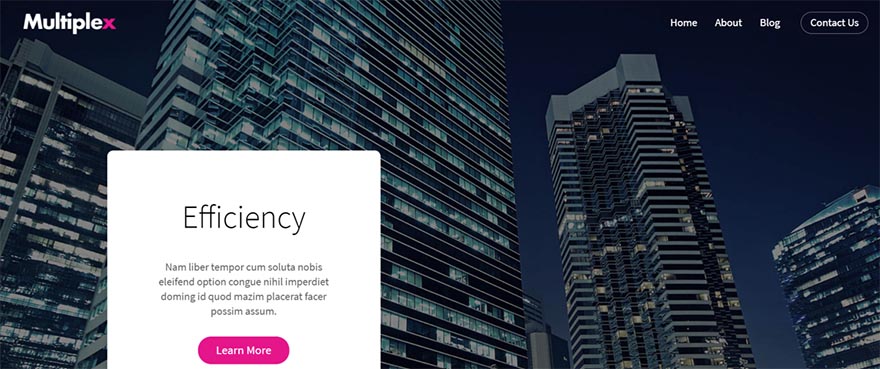 Multiplex is a multipurpose Joomla template so it will look great on any type of site, including blogs. It sports a modern flat design that is built on top of the Sparky Framework. As such, Multiplex is fully compatible with the Sparky Page Builder.
What's great, this template uses a modular design that supports drag-and-drop customization. You can easily personalize the layouts and place any element wherever you want.
Furthermore, Multiplex comes prepackaged with a dropdown menu feature, which allows you to display several menu items more effectively.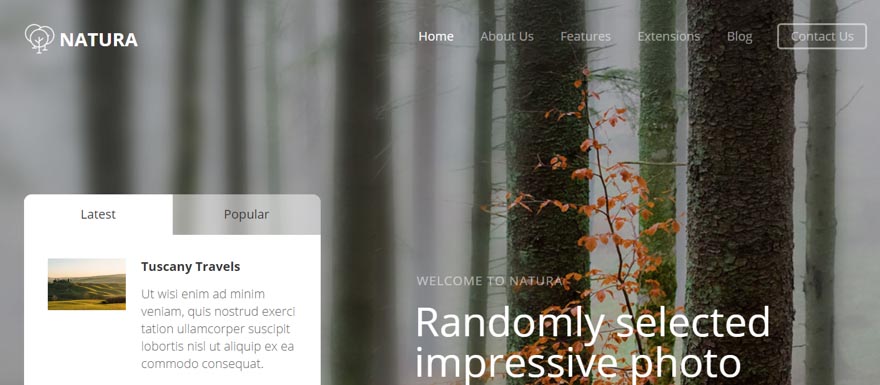 Natura is a classic-looking template for Joomla that offers a big header and spacious design. It is suitable for bloggers who often upload full-width pictures without making its site too packed.
With Natura, you have five predefined main colors. Fortunately, you're free to change them to make your blog more unique.
Natura will cost you $39. For that price, you will also get several handy modules, including a swipe carousel, image slider, and Google Maps integration.
The next best Joomla template for your blog is Stamford. Although it's free, it doesn't shy away from giving you sophisticated elements, including interactive panels, lots of graphic decorations, and an animated interface.
As for customization, Stamford allows you to switch between dark and light versions. To tweak the design further, it provides you with 50 module positions and four color suffixes.
What's more, it integrates seamlessly with Google Fonts and has an advanced typography feature. By using Stamford, your written content will never look boring.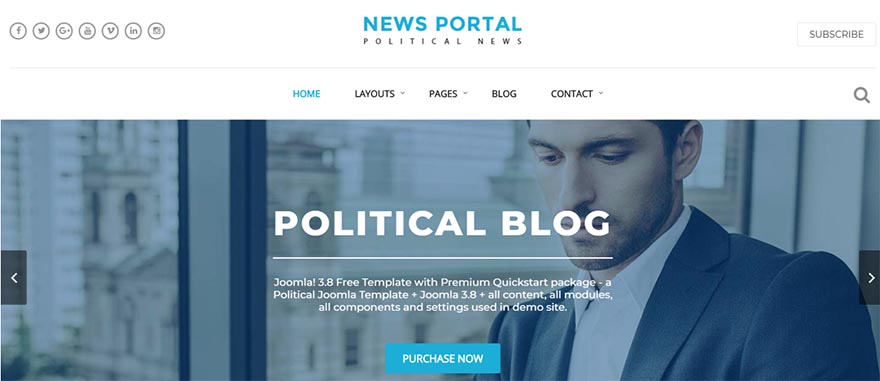 If you want to build a magazine-like blog, News Portal is the template you should go for. It can display numerous articles efficiently without sacrificing speed and responsiveness. As a result, your page can still perform well on smaller screens.
Moreover, News Portal is equipped with a multilevel dropdown menu. This feature lets users navigate through your content-packed blog with ease.
Another important benefit of News Portal is that it is built on top of SEO-friendly code. There is also a built-in breadcrumbs feature that will help you rank better on search engines.

Megastar is one of the most customizable templates for Joomla. Powered by Hexa 3 framework and Quix page builder, it brings complete styling options in a user-friendly interface. What's cool, this template includes more than 50 elements that you can personalize.
Besides that, Megastar also packs a custom coming soon and 404 page. Therefore, you don't have to design them from scratch or buy another template again.
There are free and paid versions of Megastar, which can cost you up to $29. For that price, you are getting all the features above along with many others, including Google Fonts integration, copyright removal, and 24/7 customer support.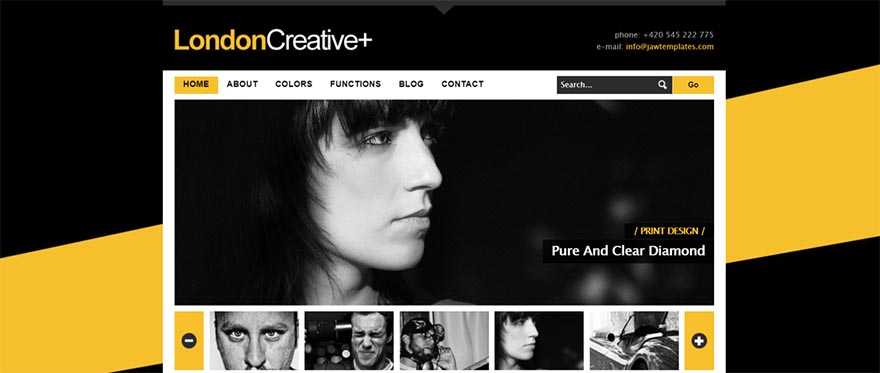 If you are looking for a one-of-a-kind template for your blog, London Creative should be on your list. With its bold yet sleek design, you have the power to add a unique look to your site.
This template also boasts a customizable image slider with spinning buttons and a bunch of transition animation. Combined with its PrettyPlugin extension, you can easily create a stunning image slideshow on your homepage.
What's more, London Creative lets you choose from three main color options — two dark and one white design. At only $10, this template is definitely a steal.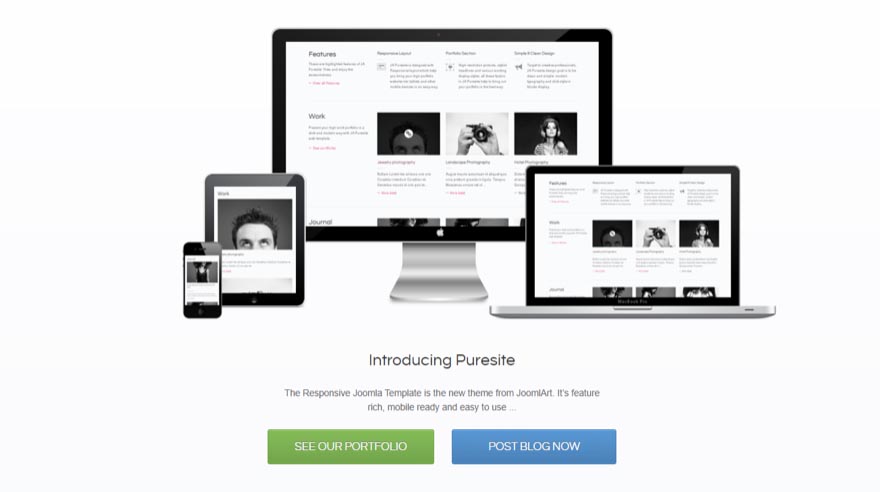 Minimalism is what JA PureSite is all about. This Joomla template features a clean white design with red, blue, and green accent color options. With its wide space and on-point typography, your readers will also have a pleasant reading experience.
Thanks to its simplicity, JA PureSite manages to be blazing fast and responsive. There are no significant issues on smaller devices even when you display a lot of posts with large images. To provide better navigation for your readers, this template also offers Megamenu features.
If you want to install JA PureSite, you have to buy JoomlArt's Pro plan, which costs $89. It includes 12 other templates as well as 12 bonus pages, like a 404 page, a coming soon page, and so on.

You'd be surprised to know that Meet Gavern is a free Joomla Template. It includes a few features that we often find on premium templates only, such as animated headers and icons as well as advanced typography via Google and Squirrel Fonts.
Furthermore, the layouts are fully customizable with options to add buttons, alerts, and block quotes. There also are logo and copyright settings, which allow you to highlight your brand's identity. To top it all off, Meet Gavern is lightweight and responsive.

Jedi is a multifunctional Joomla template that provides many additional pages for your blog – a team page, history page, pricing, and so on. So if you have an online business and you want to make a blog page for it, Jedi is your best choice.
Thankfully, the theme color settings can be applied universally. No matter which style you choose, the design will be consistent throughout your website.
Moreover, Jedi also indulges you with a handful of useful features. Do you want to showcase images beautifully? There are stunning image sliders and galleries for that. Or are you trying to attract more readers? This template also packs email subscriptions and contact forms.