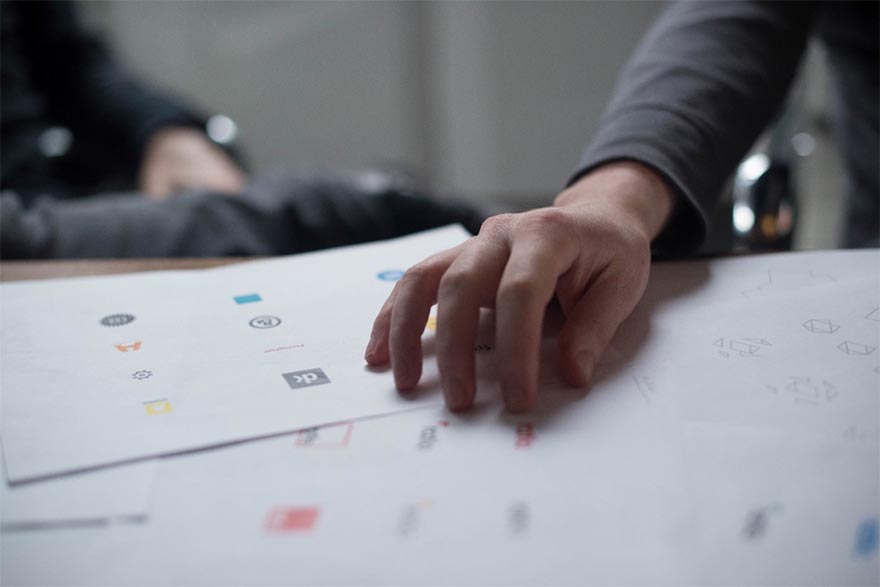 We unconsciously see hundreds of logos every day; most fail to be remembered. You might be asking how you create a memorable logo. Think of an Apple, Three stripes, or a Bluebird, and you immediately know the brand. Those famous logos all have one thing in common, quality of design.
But a well-designed logo doesn't happen by chance, and companies spend vast sums to ensure that they have a logo that connects with the public on a subconscious level and stays there.
If you have the budget to outsource a logo designer, then it's an option worth considering. If, however you don't, there is another way.
Use a logo design tool. They give you the ability to create a unique and memorable logo at a fraction of the cost.
1.Tailor Brands
Let's start with Tailor Brands as it's one of the leading logo-generating tools in the market today, with over 3 million customers, used in 35 countries, and available in English, German, Spanish, and French.
It uses AI machine-learning technology to create professional logos and brand identity solutions for businesses of all sizes. Aside from generating logos, Tailor Brands also provides AI-driven website design, social media marketing tools, print work for stationary, and advertising promotions.
Those are the basic features you'd expect from a good logo tool such as this. However, they also have a few extra exciting features.
Flexibility is one, allowing you to create truly unique logos. You can customize every part of your logo design, from the icon, text, typeface, colors, and multiple options for transparent backgrounds. There's also an extensive icon library, and you can use up to 28 characters in your company name and 32 in your tagline.
When completed, your logo comes in a Zip file, in both JPG and PNG format.
Other reasons for Tailor Brands' popularity are affordability and ease of use, as you do not need to be technically skilled to design a logo.
2. Desygner
Desygner is an image editing web app designed to help social media marketers, bloggers, writers, and website owners create and print promotional material.
The software has an extensive range, from flyers, posters, business cards, menus, and gift certificates, to header images, web ads, post images, and ready-made templates. You can also customize your designs using multiple backgrounds, fonts, and sticker choices.
Desygner is also a useful tool for building a brand presence on social media platforms as you can send unique images and designs on multiple channels. Unlimited free images are also available from Google and Flickr, and the template provided for social media marketing has inbuilt image scale software to ensure your images are the perfect fit, no matter what platform you use.
You can download all of your designs in PNG or JPG format.
3. Ink Scape
Inkscape is a Scalable Vector Graphics editor that uses a free open native file format that can be accessed by any other vector graphics tool. Making it increasingly popular in digital design. Inkscape is also a cross-platform vector that can be viewed by pretty much every modern browser, such as Windows, Linux, and Mac.
The program has gained a strong reputation for logos and other vector-mode modified media designs. One much-appreciated aspect of its application is its ability to create graphics that are scalable to any size without losing the original quality.
Inkscape is also quite flexible, equipped with a range of useful tools and readily accessible information on how to use them. Some exciting features are object manipulation, objection creation, rendering, path operations, fill and brush strokes.
With regards to graphics, raster graphics (most digital photographs) are importable into Inkscape by linking or embedding directly; however, the word is that it's a complicated process. Generally, it is far easier to convert the vector into raster graphics than visa vera.
Ink Scape Price: free to use
4. Jeta
Jeta logo is an image creation tool for designing logos and promotional printing, and the uncomplicated interface offers a clean and user-friendly platform.
The jet logo library has a large number of ready-to-use pre-designed vector logo shapes, and templates that can be customized by choosing from over two hundred colors, shapes, and styles. You can also use the platform as a blank canvas, and as it's a vector-based program, logos are scalable without sacrificing quality. Logos are downloadable in PNG, BMP, and JPG format for web and printing purposes.
As the program is a simplified one, it does have some drawbacks with regard to design features, such as individual shapes that cannot be customized. Extra features are limited, which does restrict the range of the user's design aspirations.
With regards to graphics, raster graphics (most digital photographs) are importable into Inkscape by linking or embedding directly; however, the word is that it's a complicated process. Generally, it is far easier to convert vectors into raster graphics than visa vera.
5. Adobe
Adobe Illustrator enables you to create illustrations, cartoons of real photographs, logos, charts, diagrams, and everyday promotional materials in print and digital form.
As Adobe Illustrator is another vector-driven program, all artwork created retains its quality regardless of what resolution you use to display it on, allowing for scaling of images.
Illustrator creates images that can be exported to InDesign, meaning you can use images within a magazine or a book. It also works the other way, as artwork and images can be imported into Illustrator and then re-designed by mixing text and other on-platform illustrations.
6. PixelLogo
Designers have been using Pixel art for years, and it is now as popular as ever. Well suited to the gaming industry and technology companies but also used by other markets due to their unique style and nostalgic appeal.
PixelLogo provides high-quality pre-designed, ready-to-use 3D and animated logo platforms. Designed in-house and with a vast catalog of tried and tested designs to choose from, logos are available for immediate download and use. This approach offers a quick and effective way for businesses to have an instant logo.
The Last Word
So, there you have it. You don't have to sacrifice your logo's quality just because you don't have the budget of Apple and Twitter, as all of the logo design tools described here can help you, in their own way, create high quality, a professional-looking logo that's unforgettable.