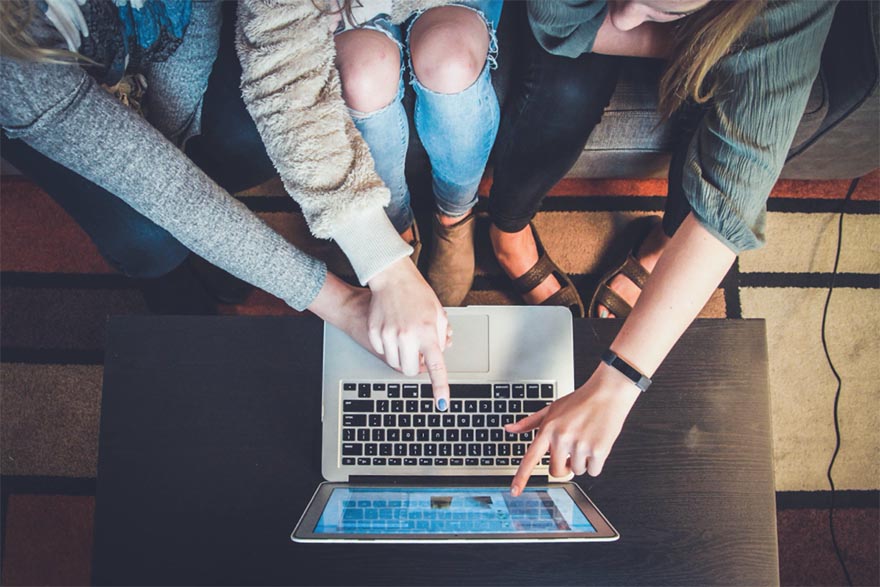 Making money on digital assets sounds like something only for IT professionals. However, if you look closely, you can see that it can be a way to earn extra money for almost anyone.
Let's focus on the sites. These digital assets can bring millions to their owners. There are many different ways to get a website and even more ways to make money from it. So what are those ways?
Ways To Get A Website And Earn On It
There are different ways to become an owner of a website.
Buy, Manage, Earn On Your Own
Many entrepreneurs run their sites on their own and make good money without the help of outside companies or experts.
They can launch a website from scratch or buy it from massive trading platforms such as Flippa. These platforms are designed to make buying fast and easy.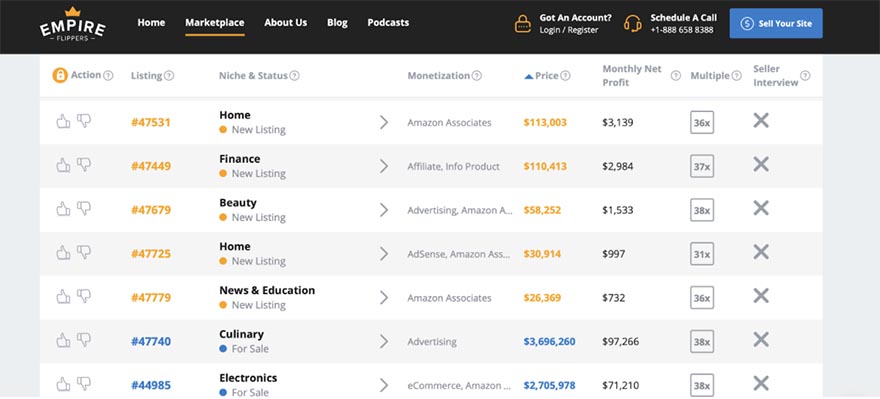 As shown in the screenshots from Empire Flippers, all the necessary information can be found in the description of the website, including the expected income and skills needed to work with this accurate digital asset.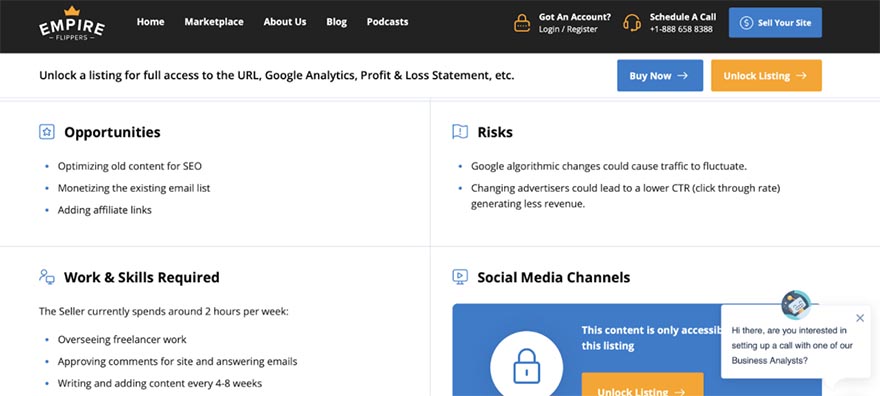 Launching and managing a website requires certain skills and knowledge, and without them, the whole idea can be risky.
Invest With TikTak Global And Get Passive Income
For people who do not have much time or skills to run a website, some companies offer to invest in a digital asset and generate passive income. How does it work?
At TikTak Global, this is how the whole process works: a person chooses a website, invests, and watches the website grow and generate revenue under the supervision of a professional team.
The company offers its assistance at every stage of the transaction. The company's experts also explain how the partnership works in the FAQ section of the website and on a video.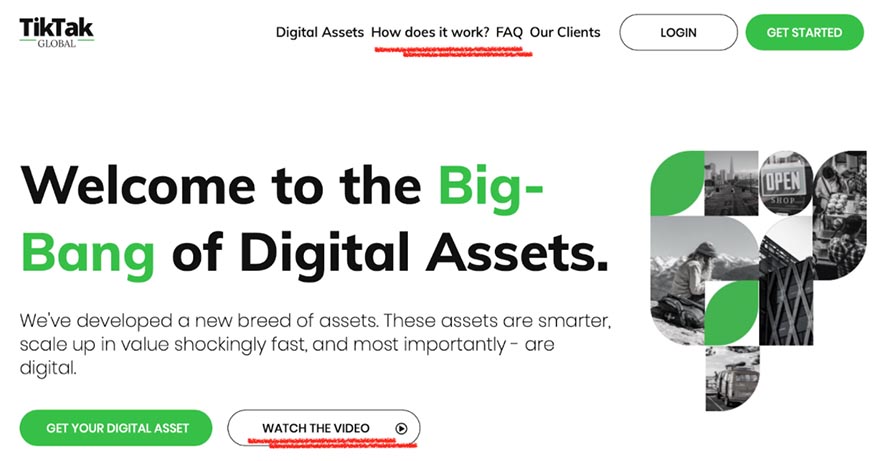 TikTak Global openly shares information about what sources of income they use to make assets profitable.
These are: Google AdSense, YouTube Ads, Taboola and Outbrain Ads, a business partnership led by our in-house B2B manager, affiliate offers (CPL & CPA), a leading generation for business owners, banner sales to business owners and advertising space sales to business owners.

And again, a team of professionals take care of the tools to generate income.
TikTak Global takes responsibility for all technical issues related to website management. Investors wait for the money to be in their pockets.
Find Your Own Way
Making money on websites is like art. There is no right or wrong way to do it.
Instead of buying a website on a platform, you can build it from scratch or order it from a freelancer or professional company.
Instead of leaving all management issues to the team of some company, you can delegate only some of the responsibilities. Some companies and freelancers help in solving all sorts of problems that you may encounter when working with websites.
Money Making Toolbox - How The Money Is Made
Let's say you already have a website. What tools can you use to monetize it?
Tool #1 - Ads And Sponsored Posts
Selling space for advertising is one of the most common ways to make money on the site. Agreements with partners may vary, but many agree to the pay-per-link model. It means that you get cash every time someone clicks on an ad placed on your site.
Advertising is known to bring "passive income" to website owners. In fact, for the administration of advertising, you need to do some management work. And even more, work is required to attract people so that advertising brings money.
Sponsored posts are usually used by bloggers or so-called "influencers" or "opinion leaders. Sites with certain popularity may also expect some brands to be willing to pay you to promote their services or products.
Useful tool: Google Adsense seems to be the most commonly used advertising tool.
Tool #2 - Affiliate Offers
Affiliate marketing is the process of redirecting visitors to some other site or product and receiving a commission for that.
There are two ways to get money through affiliate marketing:
CPC (cost per link): you get the money every time your site visitors click on a link to a partner company's site or product
CPA (cost per acquisition): you receive money if visitors to your site buy a product or subscribe to the services of a partner company.
Sean Meyer, an online businessman who used affiliate marketing in his work, warns: "People still have to trust the person who refers them." Thus, the effectiveness of affiliate marketing depends on the attendance and reputation of your website.
In terms of setting up, affiliate marketing is simple.
Useful tools: There are many affiliate programs, but some of the most common are Clickbank and ShareASale.
Tool #3 - Sales, Sales, Sales
There are many ways to make online sales bring in money. These are just some of the options:
Sell information products such as checklists, manuals, seminars (related to the topic of the site)
Cooperate with companies that sell products related to the content of your site
Promoting and marketing services (excellent option for freelancers).
A completely different area is e-commerce can be a sales site built with Shopify or a site that has a blog and sells products.
Tool #4 - Subscription
Subscribing to websites is a modern version of a newspaper or magazine subscription. In exchange for payment, site owners can offer VIP info content. Special sales offer expert reviews on requests.
Many platforms offer customization of the subscription area on your website, which can be accessed after logging in.
A subscription is an effective tool in terms of providing a stable income for website owners.
Tool #5 - Donations
This tool works for websites with a genuinely interested community.
Many sites that have worked for some time to help their visitors can count on active gratitude from them. An example of miraculous donations is Wikipedia. This non-profit site accepts donations and remains free.
Another great example is Patreon. Patreon is a crowdfunding platform that offers fans to pay and support artists for their work. In this way, artists who post their work on the platform can earn money, and the platform receives donations.
A useful tool: Paypal payment system. Paypal is easy to use both for site managers and those who want to donate. You can set up a donation button as soon as you set up your Paypal account.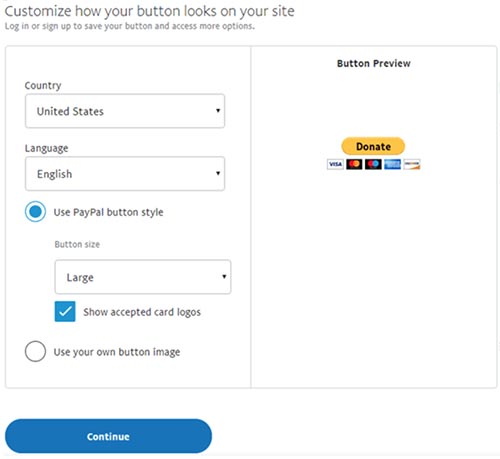 It is essential to make sure that those who are willing to show their appreciation through payments can easily do so.
To Sum It Up
There are many working tools used to make money on digital assets that have proven effective over time. There are ways to get websites and get them to make money, and these are all described in the manuals and seminars available online.
The scariest, yet the most exciting thing about the digital world is that it changes at the speed of light. It gives entrepreneurs the space to come up with creative ways to make money online.
So explore, try the ways described, or find your own way to make money online.