You need to think hard before choosing your domain name. Because the name you want will represent your complete website. Online domain names have a massive impact all over the internet in terms of click-through rate, search rate, or drive traffic. The right domain name affects your online marketing.
Some Important Tips for Choosing a Domain Name
When you want to start a website, you might have noticed that it is quite challenging to find the right domain name, which is available.
Choose a brandable name:
Making a website is similar to launching your brand. The name of your website must be unique but pronounceable. If you want the return users, your website name must be memorable for them. Brandable names give you extra credibility. Don't add filler words into your domain name that decrease the website authority.
Easy to remember:
In general, you don't want a very generic domain name because there's less distinction attached to your brand. Try to choose a more creative and less generic name. If someone has to read twice or thrice to understand the domain name, it's a clear sign that you are choosing the wrong name.
Easy to spell:
The spelling of your domain name is very important. Many people skip the name if it looks complicated. You should try to avoid adding a single number to your domain name.
Choose a short name:
The short keywords have more searches on Google. Choose a name that can be easy to remember and short. People usually don't focus on long keywords, but minds focus on short domains easily and memorize them. A perfect domain name has 7-20 letters.
Give priority to .com:
If possible, you must stick to the .com domain. This is the most prominent as well as the dominant domain out there. When people think about any specific website, ".com" automatically comes to our minds.
To find the right domain name, you have to follow the fundamental step.
First of all, choose a keyword that matches your website. For example, let's say your site is related to photography. You can select the word "photography" as your keyword. As for me, I started my website for product reviews for affiliate purposes. I choose the name Reviews lists.
Once you have selected your keyword, go to your browser and then type Monovm. Now enter the domain name which you have chosen in the search bar, and then click search.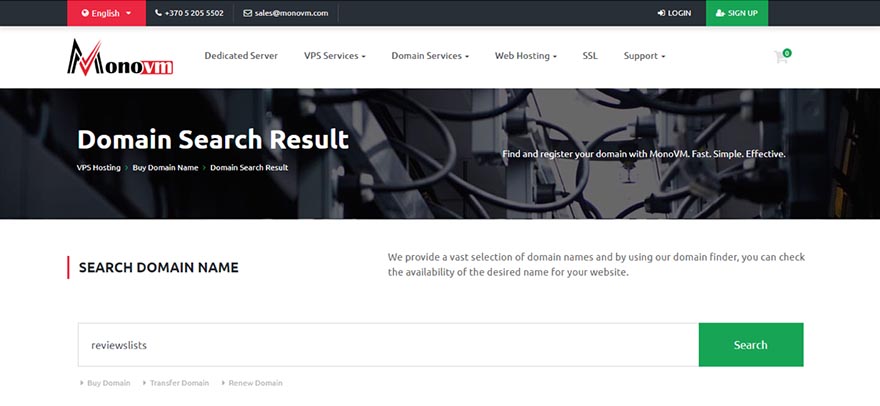 Now, as soon as you search, you will find all domain names, which are available with your keyword. As you can see, my website is reviewslists.com, and that is unavailable. But, you can buy a similar keyword with a different domain name. You can buy the right domain name according to your choice.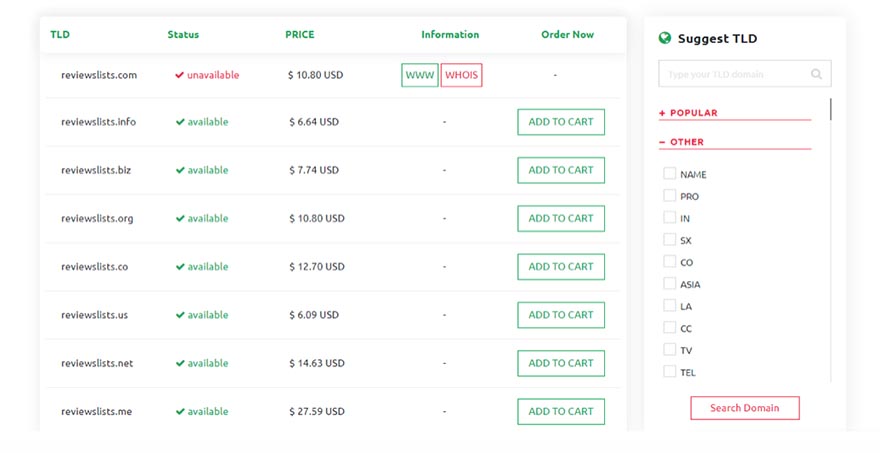 The domain name that I already own is unavailable, but the same keyword comes with different domains. You can choose any domain from the list. Find your own keyword and check if it is available on the internet.